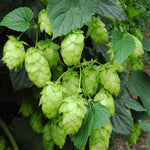 Derwent Valley Hops (Image)
Just an hour's drive from Hobart in the Derwent Valley is the Largest Hops producer in the State. Bushy Park had its first block planted in 1864 by the Shoebridge family and is still in business today. Their success caught on and within 10 years there were 70 other growers in the region, with Hops growing on 447 hectares. The Derwent Valley was then and still is one of the biggest Hops growing regions in Australia.
Hops belong to the Cannabinaceae family, which also happens to include Cannabis (hemp and marijuana). The plant grows like a vine and the buds that form are used in beer making. The Hops fields are distinctive as they are grown on a trellis system. They grow from spring through to harvest in Late summer. Harvest time was a big employer that provided thousands with seasonal income. Today the harvest is carried out with machines and drying of the Hop buds is a scientific process.
Hops were first planted in Australia as early as 1803. With perfect growing conditions and plentiful fresh water, Tasmanian brewers had some fantastic natural advantages - beer is 90% water after all. During the early settlements, beer was also given favour by the authorities in an attempt to reduce the consumption of spirits like rum and whiskey. This culminated in the ban on distilleries in 1839.
Hops as a crop was encouraged and was grown at Port Arthur, Maria island and other convict settlements. In 1846 this practice was ceased as commercial hops growers could not compete with crops grown with convict labour. Many growing areas in Tasmania has been trialled over the centuries with successful ventures in the Northeast and Southern regions but it was the Derwent Valley that proved most conducive to Hops.
In the Derwent Valley there are still some Oast houses that visitors can see. These large houses were specifically designed to dry/roasts the hops in preparation for making beer. The Hops would be stacked 30-40cm deep on a drying floor, 5-6 feet from a furnace placed directly below. They would be dried for 9hrs then turned and dried for another 3. Drying was a skilful trade, too much drying changed the colour whereas under dried hops sweated in the bags and were ruined. Hops were then put in a cooling room for several weeks after drying. Once dried, hops can last several years.
Hops prevents the beer from becoming sour, helps beer retain its head of froth and provides beer's aroma, bitterness and taste. It was also a versatile plant because young shoots could be eaten like Asparagus and it will dye wool yellow. A strong cloth can also be also made from the stalks.
Travelling around the Derwent Valley from Spring to Autumn, you will see the Hops crops in full bloom. You might also see some beautiful Oast houses, the most outstanding being the Kingsholme property just outside of Ellendale, with their distinctive vernacular architecture. Various historic, communal kilns that were used for drying the product can also be found around the region. It is well worth the time to look around the Derwent Valley and New Norfolk area, see the Hops fields and some of the historic relics generated by this important Derwent valley agricultural crop.