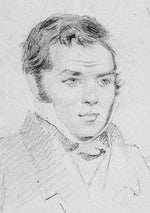 Matthew Brady Bushranger (Image)
Tasmania has had its fair share of interesting characters, from the utterly detestable and infamous to the resourceful and visionary. Matthew Brady could probably be best described as unique. Born in Manchester in 1799 he was only 21 when sentenced to 7 years transportation to Van Diemens Land. Little is known about his early life but it is thought he was a gentlemen's servant or groom on account of his obvious education. Brady was convicted of stealing a basket along with butter, bacon, sugar and rice. Some reports suggest he was convicted of being a forger as well.
In the Sydney colony, Brady was assigned as a servant for some free settlers. His first criminal act in NSW was for 'neglect of duty' for which he received 25 lashes. From the very beginning he loathed being a convict and absconded from work details regularly. He also tried to escape back to England by hiding aboard returning ships on multiple occasions. All told he tried to escape or refused work on 10 recorded occasions, receiving 350 lashes in total before being sent to Sarah Island on the remote west coast of Van Diemens Land. This harsh, new penal station was established in 1821 and was reserved for secondary offenders and desperate prisoners, it was said there was no hope of escape from Sarah Island.
In 1824 Brady and 13 others escaped in a small boat and sailed for some weeks to reach Hobart. For the next 2 years they roamed the Island as bushrangers. During this time Brady and his gang robbed homesteads, soldiers and fought numerous running battles with government troops and private settlers. He was sometimes known as "Gentleman Brady" due to him being quite courteous with those he robbed, unfailingly polite to women and swiftly retributive towards any of his gang who behaved otherwise.
The most infamous exploit by Brady and his gang was when they held up the entire town of Sorell. Catching the garrison off guard, they easily overpowered them and locked them up in their own goal. The gang then proceeded door to door in the town taking everything of value they could find. Shortly after, Governor Arthur offered a reward of 25 pounds for the capture of Brady. Over the next year (and many more robberies later) that reward increased to 300 pounds. Brady responded by posting his own notice of reward for Governor Arthur which read;
"It has caused Matthew Brady much concern that such a person known as Sir George Arthur is at large. Twenty gallons of rum will be given to any person that will deliver his person unto me."
     — 'M. BRADY.'
His gang members were extremely loyal. One member (who Brady kicked out for trying to rape a woman) was captured by authorities but refused to betray the gang despite being sentenced to hanging. Brady's reputation as a man who used violence only in self-defence is supported by a host of stories. Eventually, gang members left, or were killed off until only a few remained. It was in fact a new member to the gang, a convict named Cowan, who finally betrayed Brady for the reward and the overturning of his conviction.
At Brady's trial, the court was crowded with sympathising ladies. While he was in prison, his admirers sent him flowers, food and fan letters. Petition after petition was received by the Governor to seek a reprieve from hanging. On May 4, 1826 along with 3 others, Brady was hanged in Hobart. On his way to the gallows, women threw flowers at him. Matthew bowed to the sobbing crowd, then accepted his fate.
One of his hideouts is now known as Brady's Lookout, and is a popular picnic area with sweeping views over the Tamar River. There is another known hide-out at Notley Hills Gorge, with a lovely bush walk and an information board about Brady. Both sites are just 10-20km north of Launceston and well worth a stop. There were many bushrangers in the early 1800's in Tasmania, including some who were known cannibals. Matthew Brady stood out as someone who simply could not suffer being a convict and probably saw his life of crime as his only other option.