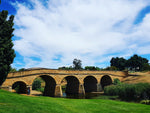 Richmond Bridge Tasmania (Image)
A Tasmanian Must-see
Any person arriving in Tasmania via Hobart really should plan for a short day trip to historic Richmond. It is located about 24km northeast of Hobart in the Coal River Valley region. The district was explored weeks after the establishment of the first British settlement in 1803. Finding deposits of coal and fertile soils suitable for farming, the area was developed as a pioneering district. Land grants were released as early as 1808 and the successful farming of wheat followed. By 1815 a flour mill had been built to process the wheat and the district soon became known as the "Granary of Australia".
The district boomed and attracted free settlers with publicans, blacksmiths, wheelwrights, saddlers and tanners setting up businesses. This sparked Richmond's growth from village to town. When Port Arthur became the dominant police district during the mid 1800's, Richmond continued to thrive as an important agricultural area and transit point between Hobart and the Tasman Peninsula where Port Arthur was located. 
This all ended after the 1872 opening of the Sorrel Causeway, which went from east to west, bypassing Richmond. Shorn of its strategic importance, Richmond remoulded itself back into a small rural community, albeit one that is today keen to show its colonial heritage.
Richmond boasts over 50 historic buildings with 45 dating back to Georgian times and listed on the National Estate. These include Australia's oldest intact goal, Anglican and Catholic Churches and the oldest (continually in use) and largest stone span bridge in Australia, all made with convict labour. 
The goal and the bridge were constructed in the 1820's when the region was transformed into a police district by Governor George Arthur. He appointed magistrates to Richmond to oversee penal discipline. At the time Richmond was the 3rd largest town in Van Diemen's Land. The Goal was in use until 1928 and housed some infamous Tasmanian convicts such as the bushranger Martin Cash and Ikey Solomon, the London pawnbroker who was the model for Fagin in Oliver Twist. It is open to the public and is packed with historical information and stories about the days of its operation and can be toured at ones own leisure.
The main street has many businesses, antique stores and tourist attractions including the Goal and the Old Hobart Town model village. With galleries, museums, cafes, historical landmarks and many wineries close by it is a must see for anyone touring the Hobart region.