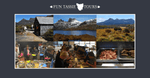 Cradle Mountain – Breath Taking Scenery & Watering Food Fare
The gastronomic highlight of my Tasmanian tour would have to be our visit to Cradle Mt, as both the evening meal and the buffet breakfast are fantastic.
The all included bbq dinner is more of a banquet than a bbq. Its not your usual sit around a smoky bbq, but an in outdoor dining experience. We use the fantastic bbq facilities supplied at our accommodation venue that include, indoor stainless steel barbeques, frigs, sinks, benches, exhaust fans, bench tables and chairs, all housed in a great stone and glass building than even has a huge double sided stone fireplace for extra comfort if the night turns cold.
I cook a variety of quality meat, that includes scotch filet steak, chicken, sausages and even kangaroo, plus onion, mushroom, hash browns. A temptive garden fresh salad completes the fare and seconds or even thirds are encouraged. Do not worry if your are not a red meat eater, as I can also do fish or veggie patties. All washed down with a glass or two of wine. This is a great social evening where we all get to know each other and enjoy good food and wine, great company in fantastic ambiance. Often there are wallabies and possums looking on through the floor to ceiling windows.
Breakfast the next morning is just as spectacular, as we dine in the luxury restaurant at the Cradle Mt. Hotel. A full buffet breakfast, that includes hot dishes like bacon, eggs, mushrooms, tomatoes, sausages, beans etc plus a great variety of cold foods, fresh fruit, cereals and yoghurt and of course tea, coffee, juices and toast. This is truly an excellent way to start a day at Cradle Mt.
---
Article by Robert Wilson. Robert Wilson is a tour operator and tour guide for Fun Tassie Tours who has a wealth of knowledge and experience on all things Tasmania. Fun Tassie Tours provide the best Tasmania Tours for people looking for an interesting and personalised tour to the best parts of Tasmania.
Fun Tassie Tours visit Cradle Mountain, The Bay of Fires, East Coast Tasmania & West Coast Tasmania Weekly. Meals are included and travelers stay in affordable but comfortable 31/2 + star accommodation while in Tasmania.
For all Fun Tassie Tour inquiries & Tasmania Tours details please feel free to get in contact.
---