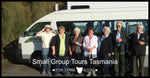 For the photographer, small group tours are definitely the way to go, as unscheduled stops are always made to admire and capture on film anything unusual, stunningly beautiful or getting up close to delightful wildlife.  Something which the larger tour coaches cannot do.
I recently had the pleasure to escort Geoff and Sue around Tasmania on a  6 day Tasmania tour.  I have a policy of guaranteed departure with a minimum of two passengers, so they were lucky enough to score a private tour on their own and I had no other bookings for that week.
With only small group tours we nearly always gain time on the itinerary which enables us to fit in other points of interest along the way.
Remarkable Cave at Port Arthur on the Tasman Peninsular, is another not always visited site in the past, although as there is no closing time I intend to now include it as our last stop before checking into our motel.  This amazing sea cave is well worth the 200 (well made) steps down to the viewing platform.
On every tour you always see something out of the ordinary, but this tour was exceptional, it seemed that everyday we were treated with fantastic surprises.  For example while having lunch on Hobart's Constitution Docks, a seal frolicked in the water beside our floating restaurant.  The next day while travelling up the east coast past Miria Island we were graced with the most magnificent rainbow and it almost seemed that the fabled pot of gold was within our reach.
Whilst travelling the Lyell Highway on the west coast we rounded a corner to find a wedge tail eagle beside the road feeding on road kill.
To be able to stop and admire from just a few metres, such a majestic bird was fantastic.
We visited the picturesque Nelson Falls and whilst there another couple touring Tasmania in a caravan, turned out they were all from the same small New South Wales country town of West Wylong, and they had in fact mutual friends and knew each others families.  It just goes to show what a small world it really is.
Another site not often seen from the Lyell Highway due to cloud is Frenchmen's Cap, a mountain so called because from some angles it resembles a beret that is worn in France.  There is only one spot on the highway where the mountain is sometimes visible, up the valley between the two mountains in front, and there it was in all it's glory.
Tasmania is a stunning place to visit and with my small group tours we can take advantage of very opportunity that arises.
A Small Group Tour of Tasmania – Tasmanian experience like no other –  Fun Tassie Tours.