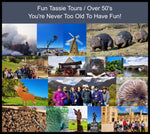 At Fun Tassie Tours we have regular itinerary offerings that are well suited to seniors and guests over 50 years. For most of our packages, guests could expect a fellow group of travellers typically between the ages of 40-70yrs. There are several very good reasons as to why our Tasmanian tours appeal to a slightly older clientele:
Reduced driving stints - We have very deliberately refined our routes over many years to eliminate long driving stints and include regular stops. The longest drive we plan is about 75min however this is rare, most drives are usually planned to be 45min or less. This allows guests to have regular bathrooms stops if required, stretch, move & remain limber throughout the tour. Every afternoon we find a scenic location for tea, coffee & snacks - to us it never quite feels like a holiday without a good tea break!
Easy walks - We have carefully chosen a selection of short, scenic and easy walks to ensure senior guests of all physical abilities can participate - yes even those with a walking aid! Our group walks are generally on good quality pathways (i.e. no mud!), avoid large staircases, and are no more than about 40min in length at a very leisurely pace. Many can be found on Tasmania's official 60 Great Short Walks list. We usually avoid anything that could be considered hiking or trekking and regular shoes are fine for any walks we undertake. We have found for most guests over 50, it's generally better to plan 3 or 4 shorter walks showcasing different features & scenery than tackle 1 longer, extended walk where there is no option for an early finish.
Small group numbers - We generally keep our groups to 12 guests or less on a luxury 17 seat vehicle. This is to ensure guest comfort and for ease of keeping our groups together, even with some moving slower than others. 12 guests also seems to be ideal for socialising without feeling overwhelmed or creating splits within our travel groups. 
Dietary requirements - With notice we can cater for all specific dietary requirements on tour 100% which is an important consideration for many travellers. More information on this and other topics can be found on our FAQ's page.
Great accommodation - We choose our lodgings carefully to provide a comfortable experience for great value. Some are 4-star rated such as the Hobart Movenpick & the Cradle Mountain Hotel. Others offer a unique location and enhance your travel experience in other ways such as the lovely Tarraleah Estate or the Port Arthur Motor Inn which overlooks the ruins of Port Arthur (a World Heritage listed site) from your restaurant dinner table! 
Sample style itineraries - Our itineraries are designed to offer a fantastic overview and sample Tasmania's best without spending too long on any one particular theme or area. A great example is our 7 Day Tour in Circle itinerary, which is an ideal tour for over 50s. We have found this gives a rounded travel experience suiting most senior guests over 50, rather than focusing heavily on trekking or adventure activities for example. We keep the itineraries interesting by including great natural scenery, wildlife, settlement history, natural history, cultural attractions, food, wine, tastings, indoor activities, outdoor activities and much more. Some of the most iconic places we visit regularly on our travels are listed below:
The Bay of Fires area
Port Arthur Historic Site
Mt Wellington summit in Hobart
Launceston City & Cataract Gorge
Strahan Village
The Wall Art Gallery
Both Nelson Falls & Russell Falls
1 or more fantastic wineries.

 
Overall we find that the small, personalised style of our group tours is well suited to a slightly older clientele including seniors over 50 and retired travellers. Contact Morgan at Fun Tassie Tours to discuss the perfect Tasmanian tours for over 50s.