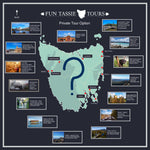 Tasmania is a fantastic holiday destination. It's small enough to avoid long driving distances, a close flight from other capital cities in Australia and can provide a rich and diverse travel experience for any small group tour in a relatively short time frame. We have found that organising an extended travel package can be a daunting task for extended family & friend groups - especially groups with smaller children. Some of the main reasons why we think Private or Chartered Tours are great options are addressed below:
No organising. With the exception of flights, we can organise all other details related to your Tasmanian holiday. Let us do the brainstorming & logistical work for you. We can provide a draft itinerary based on the brief given over a phone call, before making any required changes and finally arriving at an agreed itinerary package.
Fully customisable. Depending on the interests of your small group we can prioritise hiking, photography, adventure, mountains, gourmet & culinary attractions, culture & history etc. Creating a tailor-made travel experience suited to your group is our speciality, every detail can be addressed to ensure a fantastic experience on your bus-chartered tour. For groups with children included we can carefully design an itinerary with a diverse variety of attractions to keep everyone entertained and engaged. We also enjoy the opportunity to showcase some real hidden gems in Tasmania that are often omitted from regular touring itineraries. These can be an unexpected treat for many guests and showcase parts of Tassie that would almost certainly be missed without expert, local guidance.

 
Airport transfers. These can often be the most stressful moments, especially for large family groups with young children requiring child seats. We can completely remove the anxiety & obstacles associated with large group transfers by negotiating to meet & drop your group directly at the airports.

 
Luxury Vehicles. Enjoy travelling on one of our brand-new, luxury vehicles with leather seats and overhead storage racks. We never fill any of our vehicles to capacity to ensure guests have plenty of space, comfort and access to window seats. For family groups with young children, we can organise high-quality child seats to be professionally fitted for the duration of your Private Tour package.
Flexibility. Our private or chartered tour packages offer the flexibility to make changes on the run to suit the weather, the energy of the group or simply if a great opportunity presents itself without notice. Fun Tassie Tours are experts in Tassie and its attractions. We always have several backup & alternative activity options in every area to offer entertaining, alternative attractions should the need arise.
Drinking and enjoying Tassie Wine. Tasmania is renowned for its fantastic wine, whiskey, microbreweries and delicious gourmet produce. It would seem a shame to visit the stunning Devils Corner Vineyard on Tasmania's east coast for example, and not enjoy a lunchtime wine! With Fun Tassie Tours hosting & driving, guests can fully immerse themselves in the gourmet food & wine trail.
No map reading. Forget about which roads to travel or read maps on the fly. Relax and enjoy the scenery as we carefully choose the routes taken to provide both amazing scenery and a smooth passage. All our Private itineraries are carefully designed to have very regular stops and only cover distances appropriate for your group.
Customised Accommodation Options. We have preferred hotels & lodgings all around Tasmania. However, depending on the group dynamic we can definitely offer & organise alternative, more unique lodgings. For example, families with multiple kids often prefer the Cradle Mountain Cabins that can comfortably sleep a family of 5 in lovely, 2-bedroom (1 with bunks) self-contained & spacious cabins set in the forest.

 
Fun Tassie Tours generally requires a minimum of 6 guests to proceed with private tour bookings without additional surcharges. However, depending on the month of intended travel and the amount of notice given, each chartered itinerary package is designed and assessed individually. We would love to help you plan a Tasmania holiday package for your group of extended family or friends, contact us anytime to discuss!