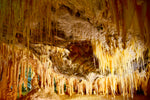 At Fun Tassie Tours we will often include a visit to the fantastic Mole Creek Caves located about 1hr west of Launceston in the Meander Valley. It is a beautiful region with many places to explore including the arts community of Deloraine, historic small towns, the Walls of Jerusalem National park, Alum cliffs, Trowunna wildlife park and Mole Creek Caves.
The limestone cave network in the area is extensive and has been explored and detailed in the pages of history since the early 1820's. There are more than 200 caves and sinkholes in the area that were developed during the Gondwana period 500 million years ago. Limestone deposits formed from coral reefs are the result of the accumulation of microscopic marine organisms after they died. Most of the caves were then hollowed through erosion of the limestone by acidic water leaching down from the surface.
Evidence found in the cave systems indicate the occupation of Aboriginal people prior to and during the last ice age and provide clues about their life style. Aboriginal people were living in caves in south-west Tasmania as long as 40 000 years ago and in the Mole Creek region almost as long.
The main tourist cave, Marakoopa Cave, was first discovered in 1906 by 2 teenage boys who kept it secret for several years before telling the adults. Marakoopa, from the Aboriginal word meaning "handsome", has two underground streams, some large open passages, glittering flowstone and dramatic stalagmites. It is home to the largest glow worm display in Australia and houses a number of threatened species including the endemic and gigantic Tasmanian cave spider.
Another path in the Marakoopa cave leads up over 350 steps to the sensational Cathedral. This is a large open area with outstanding acoustics. Local church groups would travel up to the Cathedral and sing hymns, while in recent times musicians have used the cave to make recordings.
King Solomon's Cave was found by two men chasing an unlucky wallaby who fell down a hole into the cave. In the early tourist days you needed to climb down a ladder to gain entrance to the cave. The original oil burner that illuminated the cave is still there. King Solomon's Cave is well named as it sparkles in the light at every turn. It features a variety of magnificent calcite crystal formations including the amazing Helictite. Helictites are perhaps the most delicate of cave formations. They grow in random directions and King Solomon's Cave has plenty of fantastic examples.
We love taking our guests to Mole Creek Caves and usually explore the River Cave which is the only cave in Tasmania with a Glow Worm chamber. A cool 9°C all year round, a light jacket is advised. It's an easy walk with only a handful of stairs, making it accessible for most guests and is fully guided by trained National Parks staff. A great tourist stop when travelling from Launceston to Cradle Mountain, at Fun Tassie Tours we try to include this on many of our great tour itineraries.