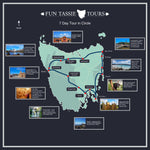 Thinking about a Tasmanian holiday but not keen on the stresses of self driving? A Fun Tassie Tours fully guided tour package could be a great option. Let us handle the organising, logistics and driving whilst you relax and enjoy the amazing scenery, food, wine and hospitality of our great state.
Our most popular itinerary is the 7 Day Tour in Circle offering departing weekly from Hobart between the months of September-May. This is a fantastic overview of Tasmania's best natural scenery, short walking trails, culture, animals, food, wine, and more. Providing a diverse touring experience is our highest priority - each day is unique and we keep guests interested by spreading out iconic attractions over the course of the week. Guests can expect to see: Tasmanian native animals, waterfalls, coastal lookouts, highland forests, art galleries, historically significant convict sites, limestone show caves, wineries, and much more! We will illuminate & enhance your experience by providing informed commentary, personal stories, and local insight into the places we visit.
Covering the island in an anti-clockwise loop, we also see the constantly changing landscapes and the stark contrast of Tasmania's flora - particularly when moving across the island east-west. The Bay of Fires (for example) can feel like an entirely different state when compared to the moss covered, enchanted forest walks of Cradle Mountain.  
Tassie's natural scenery is often the #1 attraction for visiting guests and this tour does not disappoint. Those keen on taking memorable travel photos will have plenty of opportunity at iconic destinations such as Mt Wellington summit, Port Arthur & the Tasman Peninsula, the Bay of Fires, Cradle Mountain, Lake St Clair, Mt Field National Park, and many more. We plan our days to move swiftly enough to include many of these stunning locations, yet slow enough to enjoy the views, absorb the ambience and capture the feeling of a relaxing holiday!
We have carefully chosen a selection of Tasmania's short, scenic walks meeting criteria to ensure guests of all physical abilities can participate. Our group walks are generally on decent quality pathways (no mud!), avoid large staircases and are no more than about 40min in length at a very leisurely pace. Many can be found on Tasmania's official 60 Great Short Walks list. There is definitely nothing in this itinerary that could be considered hiking or trekking - regular shoes are fine for any of these group activities. We have found for the majority of guests that it's generally a more enjoyable experience to plan 3 or 4 shorter walks showcasing different features & scenery than tackle 1 longer, extended walk where there is no option for an early finish. This is also a great way to ensure regular activity spread throughout each day and avoid any long, lengthy driving stints.
Food & fresh produce have become a major drawcard for visitors to Tasmania, and sampling a wide variety of the island's best is always a focus. Fun Tassie Tours includes free tastings of wine, chocolate, cheese, oysters and honey. Guests can enjoy samples while we share the stories of these products and how they are uniquely produced in Tasmania. Our packages include all breakfasts & lunches, meaning no time is wasted during the touring hours searching for suitable places to eat! We have chosen award winning wineries like Bangor & Puddleduck, hidden gems like 41° South Salmon Farm and a selection of others at scenic locations such as Lake St Clair, where a post lunch stroll can be taken by the group.
The size of a touring party can greatly impact the dynamic of the group, how guests interact and socialise and the overall experience for our guests. Fun Tassie Tours generally cap our weekly tours at 12 guests maximum on a 17 seater luxury Iveco vehicle. This ensures plenty of space, spare seats to move around and window seats for nearly everyone. Our vehicles are fitted with leather seats and overhead storage racks to ensure you are not crowded with carry-on baggage & jackets. We find that smaller groups allow us to maintain a leisurely pace without ever rushing. We also find both our guides & guests can connect, enjoy conversation and form friendships without feeling overwhelmed by large numbers. This has been highlighted many times over the years in online reviews posted by our guests.
On this tour package guests can expect a fellow group of travellers typically between the ages of 40-70yrs. Although given the carefully selected attractions & activities, this tour is really suitable for travellers of any age – Yes even solo travellers and families. Whilst this 7 Day Tour in Circle has been our staple itinerary for some seasons, we do offer both shortened and extended Multi-Day options that include some or all of the above, along with other iconic Tasmanian destinations.
So for travellers interested in sampling some of Tassie's best, this package could be for you! Contact Fun Tassie Tours directly anytime to discuss ideas and options to find your perfect multi-day itinerary.